Information on the Coronavirus CoVID-19 in Iceland
Temporary closures at Skaftafell, Sólheimajökull and Mýrdalsjökull.
All our scheduled tours have been temporarily suspended, resulting in the closure of our Sales offices at Skaftafell, Solheimajökull and Mýrdalsjökull.
Our Sales and service department are handling rescheduling and refunding, and will happily assist with amending your travel plans. 
We will continue to post information and inspiring content on Instagram and Facebook, so you can keep up to date with us online.
We hope to be able to receive our guests at a later date, but until then, stay safe and look after your loved ones.
The Icelandic Mountain Guides Team
Updated on March 25th 2020
Measures to minimise risk of infection on our tours in Iceland
Taking into consideration the spread of the coronavirus CoVID-19 we at Icelandic Mountain Guides is doing everything we can to minimize the risk of infections on our tours so you can enjoy your adventure with an ease of mind.
We are following all recommendations of  health authorities and for the moment there is no need to cancel tours if recommended procedures are being followed.
In light of this we have gone through all our tours operations with the safety of our guests and staff in mind and would like to share what we are doing in our to keep locations, transport vehicles and gear clean and sanitised.
What are we doing ?
 - Helmets and ice axes are sprayed with sanitiser after each tour.
- In addition to regular cleaning we are surface cleaning and using sanitisers on all our transport vehicles after each tour.
- Hand sanitisers are made available on all our sales offices and on our all our buses for our guests to use.
- Our staff performs regular surface cleaning and sanitation at our sales offices.
- While our staff and guides are happy to see you we ask them to greet you with a smile, not a handshake.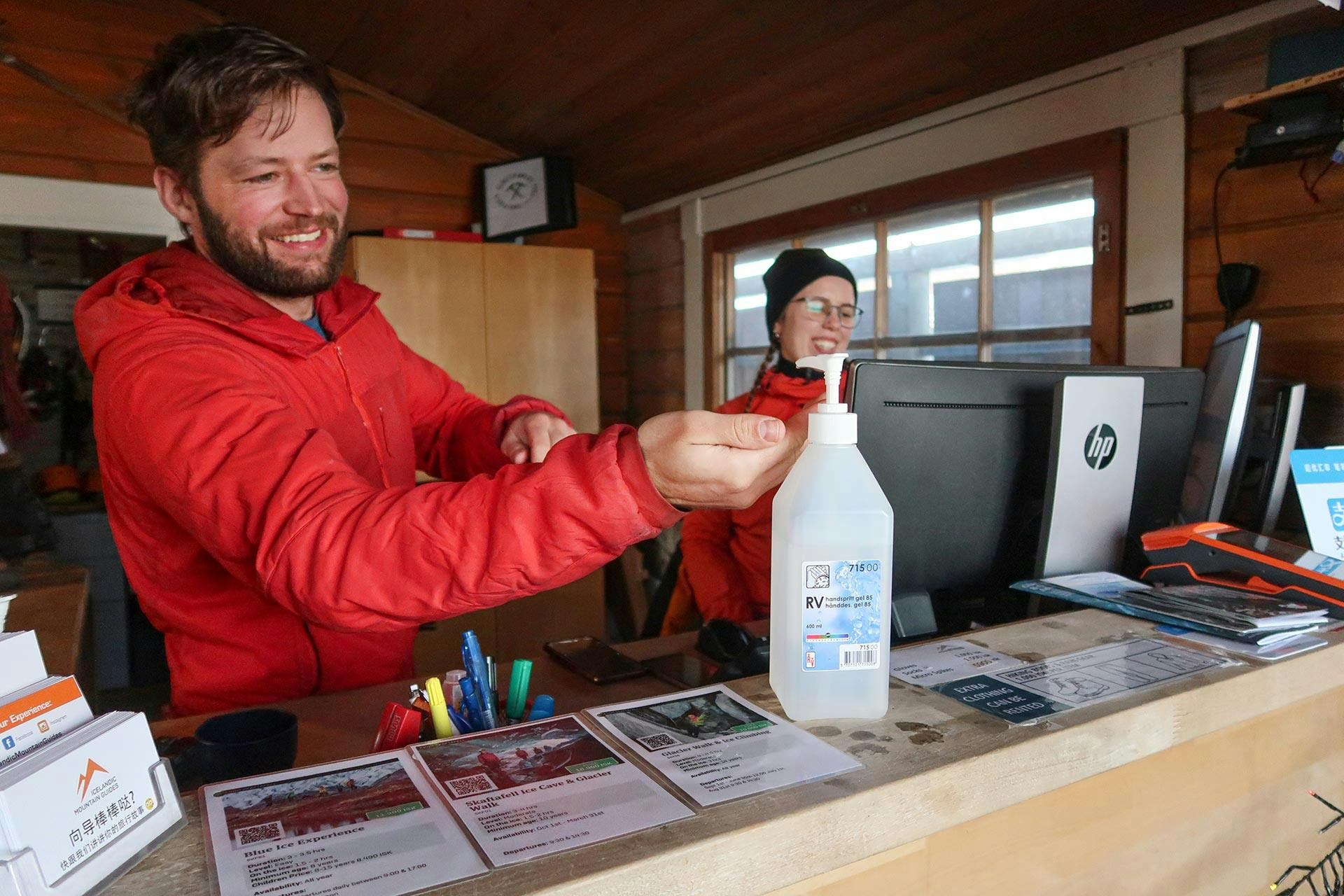 What you can do to minimise risk?
- Wash your hands with soap and water, and use disinfectant frequently (hand washing facilities are available at our sales offices).
- Avoid shaking hands, hugs and kisses. Smiling and waving are the trend this season.
- Try to minimise touching your face.
- If you need to sneeze or cough, try to do it into your elbow or in a napkin.
Is it safe go on a tour?

For the moment there is no need to cancel tours if all recommended procedures are being followed. Our team is following the advice of health authorities and monitoring the situation closely.
We are doing everything we can to keep you safe and if you follow official advice on how to minimise risk, you do not have to worry.
What if I booked a tour but don't feel safe or can't go?
These are uncertain times to travel or make plans and in light of that Icelandic Mountain Guides have put in place more flexible booking terms for the moment so you can book with ease of mind. 
While we don't make health checks to on our clients we ask our guests to be sensible in regards to their own health and of their fellow travellers when deciding on joining a tour. If you are unsure you can call us at +354 587 9999.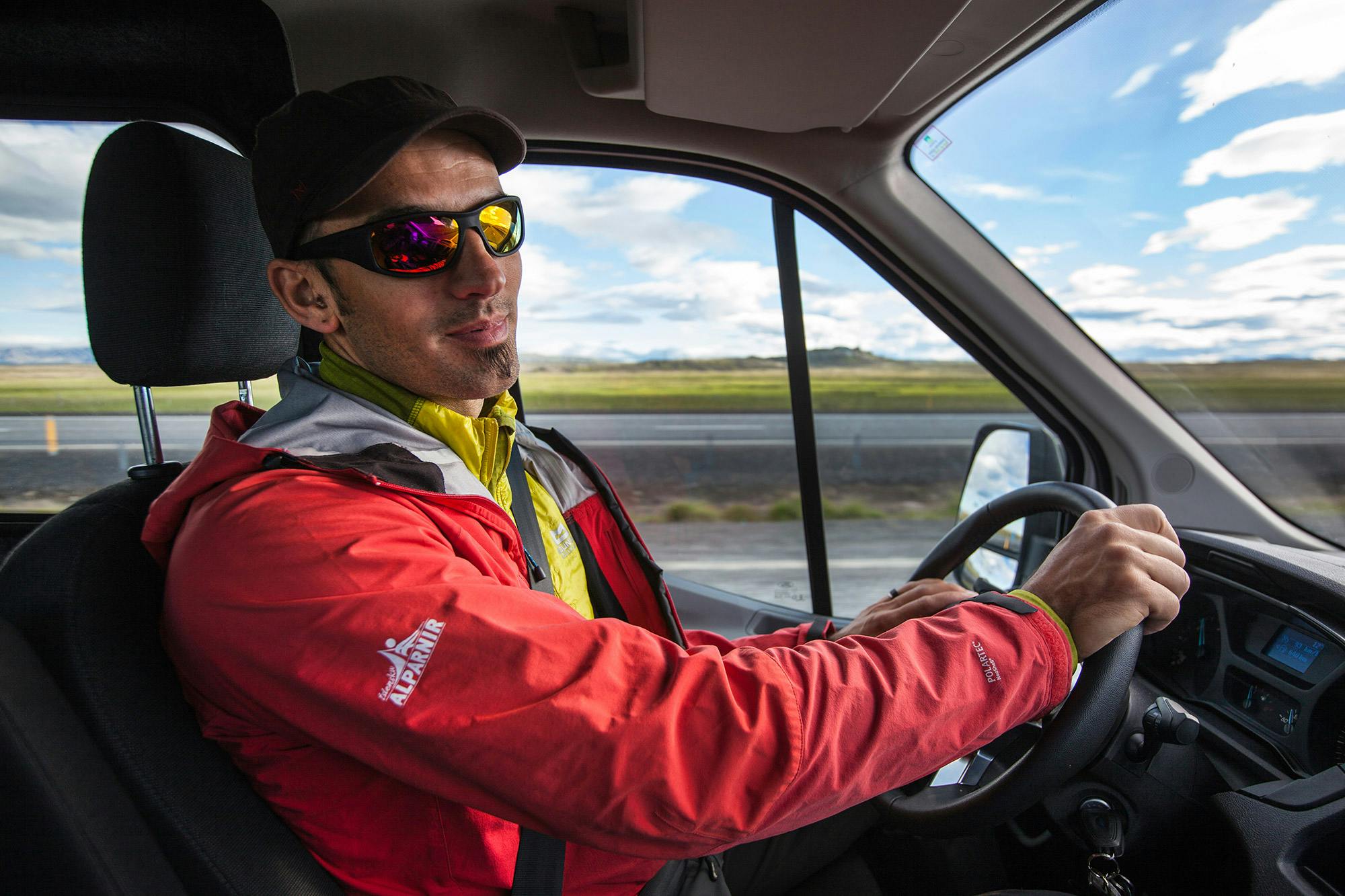 What should I do if I feel sick while in Iceland? 
If you feel sick with symptoms of the CoVID-19 virus you should remain in your accommodation and seek advice by calling 1700. Do not visit a hospital of health centre before consulting a health professional
What is being done about the Coronavirus in Iceland?
If you have further questions about official guidelines or feel symptoms follow the advise on the official website about the Corona virus in Iceland: covid.is/english 
Can I travel to Iceland at the moment?
There are no official travel restrictions to Iceland, and the country has not been listed as a high risk area.
Even though these are times of uncertainty we hope you make the best of your stay in Iceland. If you have any questions please contact us at [email protected] or call us at +354 587 9999.
Updated on March 13th 2020