Great places to hike near Vík
For those wanting to visit places outside the Capital area and even enjoy a good hiking tours the Southern part offers many amazing places to visit and hike. It is possible to explore this part of Iceland on your own and of course on tours with our experienced guides.
Hjörleifshöfði
Hjörleifshöfði is a huge rock or perhaps an island on dry land. It rises about 220 meters above the black sand at Mýrdalssandur. Hjörleifshöfði is mentioned in the Book of Settlement which is a unique source about the discovery and settlement of Iceland. According to the book Ingólfur Arnarson, the first settler, came to the southern shore in the eighth century along with his foster brother, Hjörleifur Hróðmarsson. On their way from Norway they drifted apart. Ingólfur landed where it is now called Ingólfshöfði and Hjörleifur at Hjörleifshöfði. The story did not end well for Hjörleifur, his slaves turned against him and killed him. He was buried on the top of Hjörleifshöfði and his bones are still belived to be there. The shoreline was then at the cliffs of Hjörleifshöfði but today it is located some kilometres to the south. That is due to powerful eruptions in the volcano Katla which is covered by Mýrdalsjökull glacier. Sand was carried down to the shore during those eruptions and the shoreline moved to the south.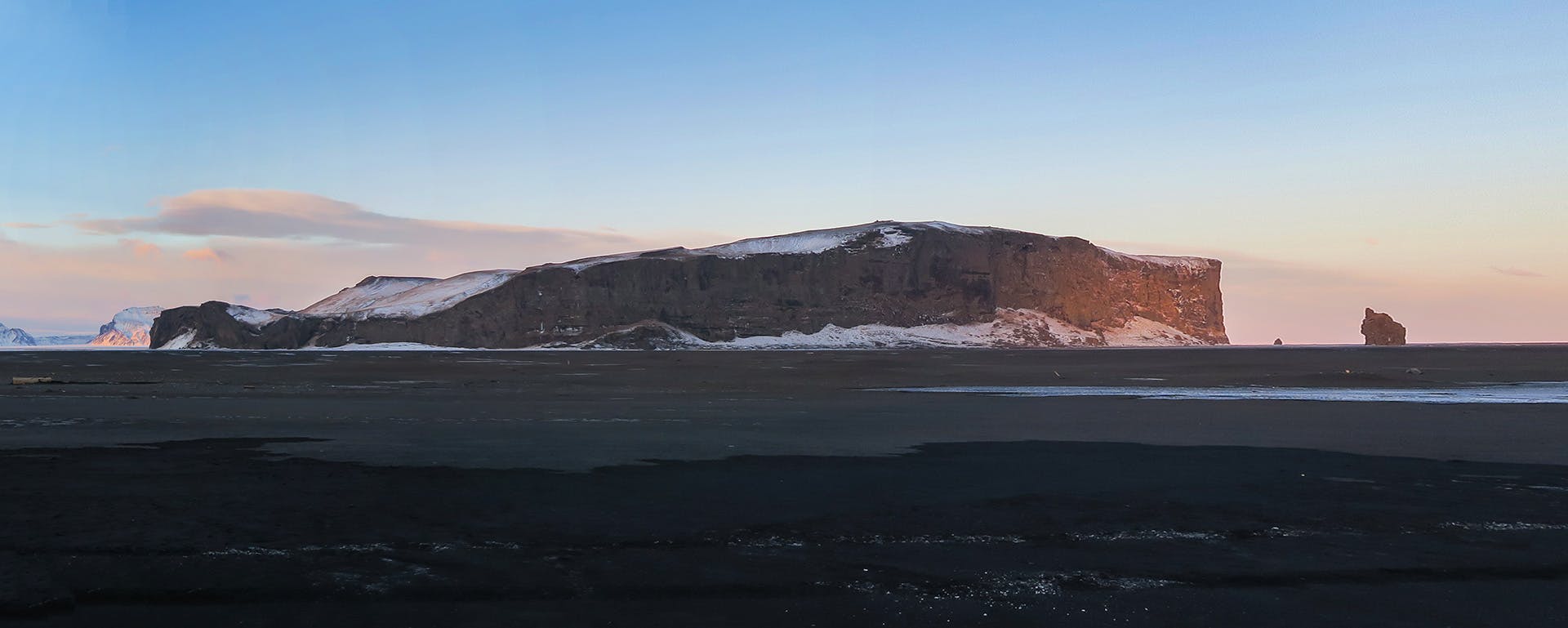 It is well worth it to hike around Hjörleifshöfði. The hike is about 6-7 kilometres long. Two to three hours should be enough time to finish this hike. Be prepared to wade a bit but it is worth it as you will hike close to high cliffs and Arnardrangur and Lásdrangur, which are two rock pillars on the south side. A bit further away are Reynisdrangar, rock pillars, that fight an endless game with the Atlantic Ocean. If you have the time it is worth it to walk up to Hjörleifshöfði from the west side. From the top you have a magnificent view over the south coast and Eyjafjallajökull and Mýrdalsjökull glaciers. Interesting and perhaps fun fact about Hjörleifshöfði is that it is not so long since people lived and farmed on the top of this beautiful rock. The hike is about 7 km. and is best done clockwise (you will see a map by the parking area). If done clockwise you will end by coming down by Gýgagjá on the south west side of Hjörleifshöfði where you will find the cave that has been nick-namend the Yoda Cave.
Hjörleifshöfdi is located about 15 km east of Vík. From the ring road there is a short road towards the south that leads to a parking area by the promontory.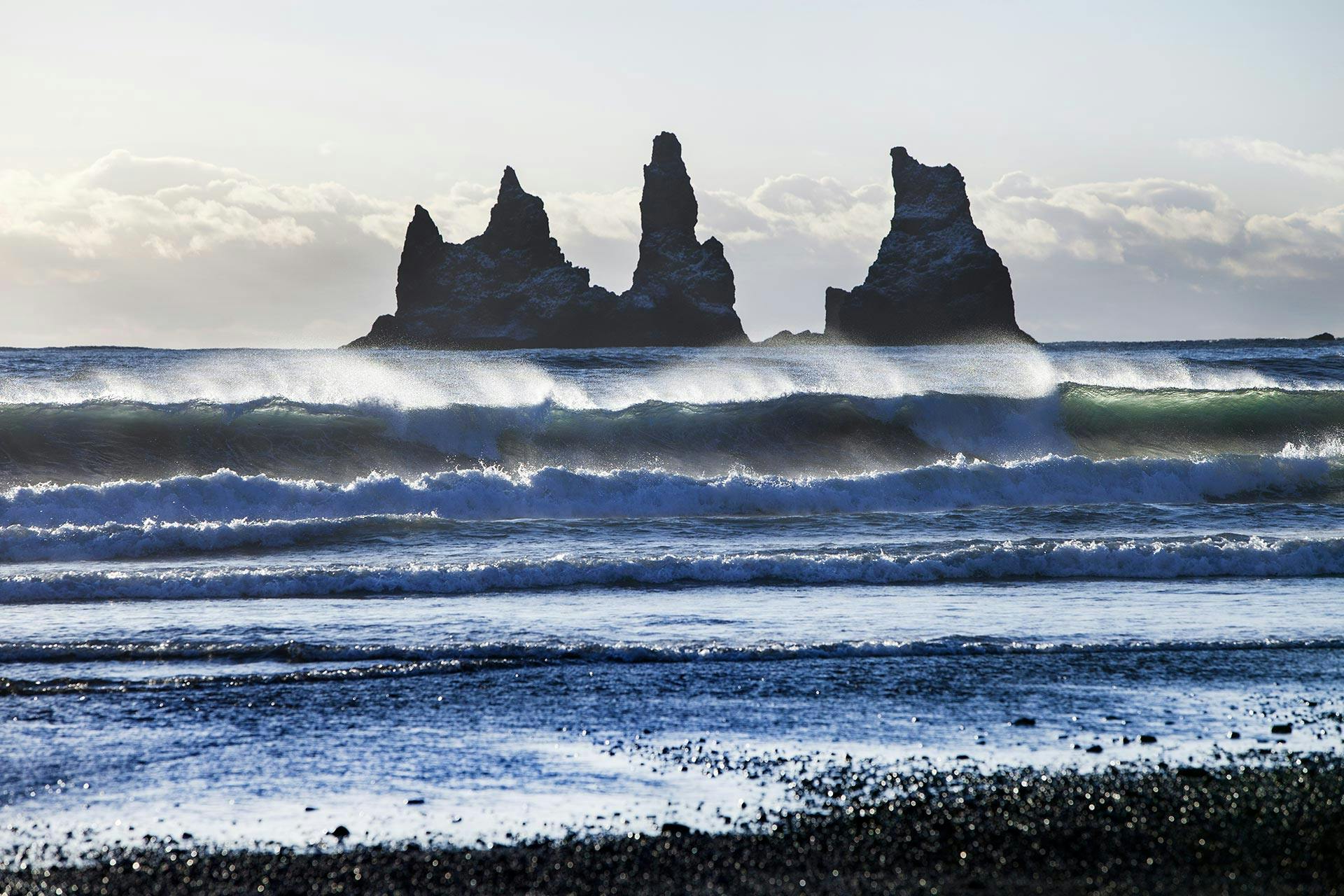 Fimmvörðuháls
Since the eruption of Eyjafjallajökull in 2010, Fimmvörðuháls has become a popular destination. On the crossing over Fimmvörðuháls you will experience spectacular nature and exciting geological features. The tour takes you from the nature reserve of Þórsmörk, up between two glaciers, over newly formed lava and past two popular craters, Magni and Móði. Then you will descend to the lowlands on the southern side. There is no wonder that National Geographic named this spectacular trail as one of the Best Hikes in the World. On our three days hike on this trail your guide will lead the way through this spectacular landscape. You will spend the evenings and nights in mountain huts where you will enjoy delicious Icelandic meals. Skógafoss waterfall and view of the Atlantic coast will greet you at the end of the hike.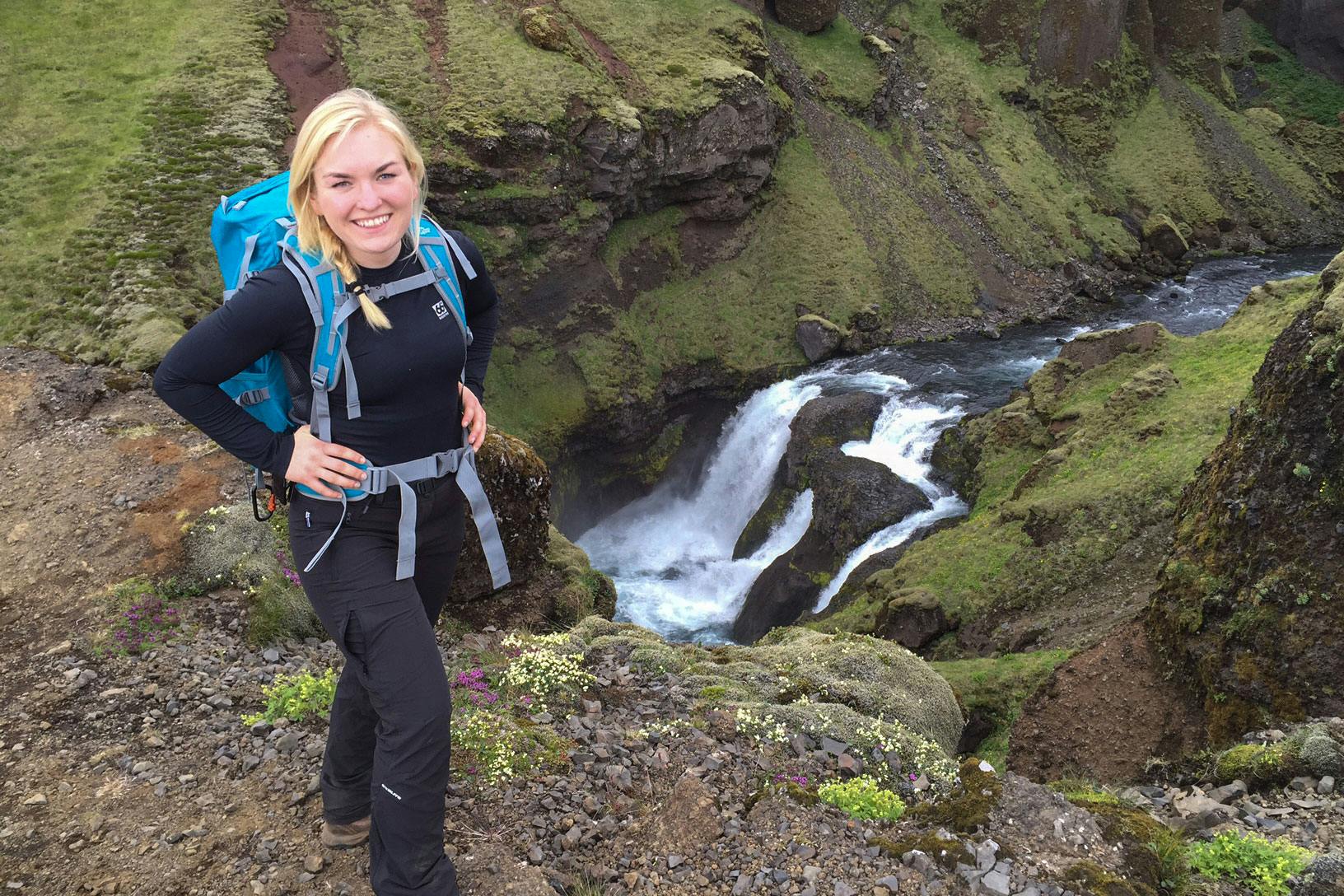 Glacier Panorama Trail
If you think the Fimmvörðuháls hike is a bit too much or too time consuming, you can take the Glacier Panorama Trail hike with starting point at the Sólheimajökull parking area. It is a 6-7 hours hike where you will enjoy views of glaciers, black beaches and the beautiful and stunning south shore where the Atlantic Ocean makes landfall. You will get a glance into the unique world of geological wonders of Iceland and get wiser about how glaciers shaped the island for thousands of years. You will be driven to about 750 meters height, to the roots of Mýrdalsjökull glacier, in the beginning of the tour. Then the hike will mostly be downhill. This is a hike that will give you great experience, glance into this truly unique world that the glaciers have created and give you memories for live. On a clear day you can add Eyjafjallajökull volcano to the list of volcanoes you have seen.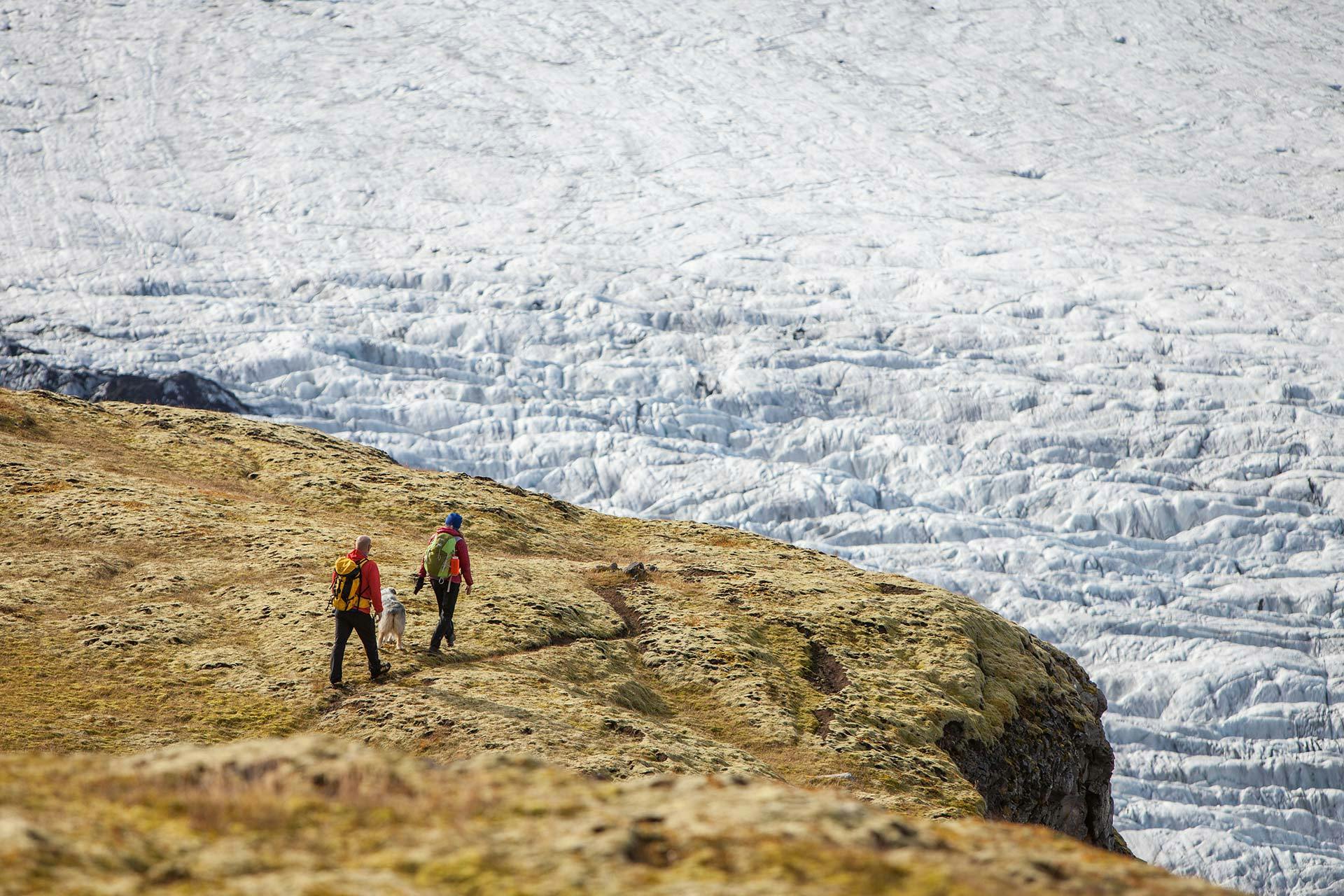 Þakgil canyon
For those wanting even more adventures in the beautiful landscape of southern Iceland Þakgil canyon is truly a hidden gem. It is located between Mýrdalsjökull glacier and the vast, black sands of Mýrdalssandur. Þakgil canyon can best be described as a green valley. It is located around 15 km off the Ring road, 5 km from Vik. Þakgil is sheltered by moss-covered vertical mountains on all sides. The bottom of the canyon is a grassy plain where you find a camping site. There are many possible day hikes from Þakgil to Mýrdalsjökull glacier and the close surroundings of the canyon.
Best tours from Sólheimajökull
Subscribe to the Icelandic Mountain Guides Blog
Outdoor adventure in Iceland is our specialty. Subscribe to our free monthly newsletter to learn when to go, what to do and where to have the best adventures in Iceland.