Offsetting our Carbon Emissions by Planting Trees in Iceland
Icelandic Mountain Guides pride ourselves on showing our customers the raw and powerful beauty of Icelandic nature. The majestic nature is what captures us as we wander through the landscape and it is an experience that is hard to convey in words. However, one thing many of our curious customers mention to us is the surprising lack of forests in Iceland. Why isn't Iceland covered in forestry like their Nordic siblings in Norway, Sweden and Finland?
A brief history of deforestation in Iceland
It is hard to imagine that once Iceland was covered in beautiful forests as far as the eye could see. Fossil evidence of several of kinds of trees and plants has been found, indicating that once a lush forest covered this little North Atlantic island. But there were two factors that contribute to the downfall of forestry in Iceland.
Firstly, series of glaciations were not kind to flora and fauna and left Iceland with a limited selection of trees. Only the strongest species could survive these glaciations, such as the resilient and strong birch. As if the glaciations weren't damaging enough, a series of natural disasters such as volcanic eruptions and earthquakes also played a pivotal role in the demise of the Icelandic forest.
Secondly, human settlement was disastrous for Icelandic tree life. The Nordic Vikings came to Iceland around 930 AD and at the time of their arrival, 40% of Iceland was covered in forest. These Vikings chopped down these forests to create pastures and fields for their livestock. Sheep were incredibly important to the Vikings, both for their meat and their wool. This livestock grazing was an enormous contributing factor in the demise of forestry in Iceland. The Vikings also needed wood for other purposes – all of these factors contribute to the lack of forest in Iceland today.
Our Environmental Policy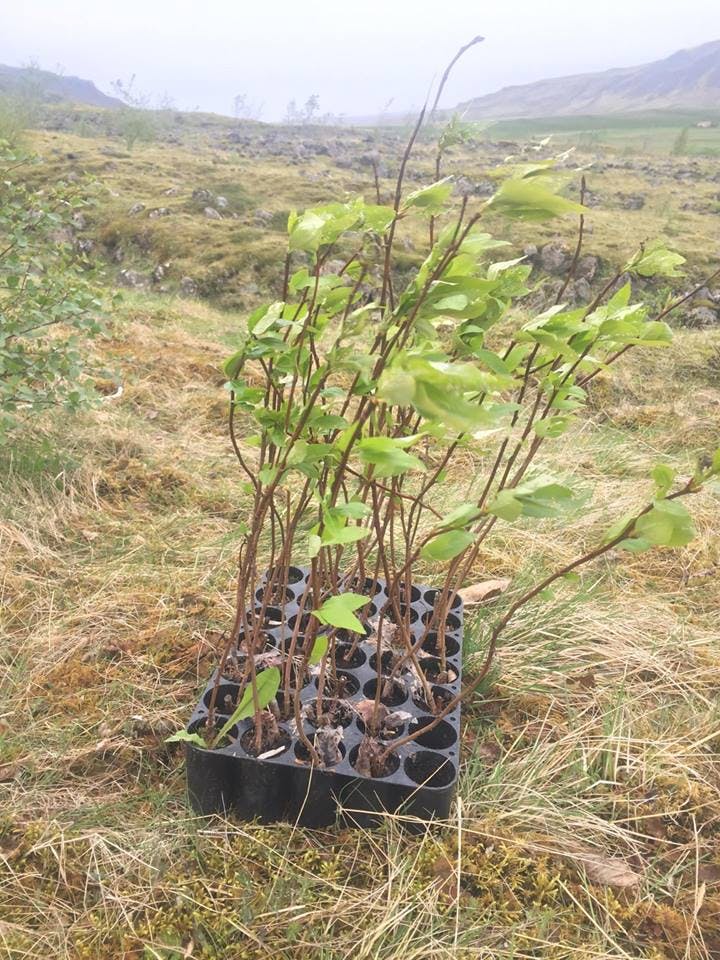 Nature is the cornerstone of Icelandic Mountain Guides. We are in deep awe of the its wonder, and we are truly blessed to be able to operate our company in such beauty. We care deeply for our environment, and in observance of our 20th anniversary we have created an environmental fund that allows us to participate in the preservation of the environment. Our mission is to support the preservation of nature by land management, so the environment can be intact for the future generations.
In all of our tours, our goal is always to minimize environmental impact and leave no trace as we pass through nature. We prefer to travel in smaller groups in order to protect nature from gross exploitation. We support local NGOs who act on environmental preservation and we are vocal in our protests against any ideas of heavy industry or new highway projects in unspoiled areas. In particular, are we keen on the protection of the Icelandic Highlands against massive industrial plans such as hydroelectric dams, power lines and all-year roads.
Icelandic Mountain Guides allocates 1% of our yearly revenue to our Environmental Fund. Furthermore, all of our customers who take a day tour or a multi-day tour are also contributing, with a fixed amount from their tour fee going to the fund.
We also believe in leading by example:
Our staff must shut down any engine when not in use.
We use vehicles that are the most fuel efficient that can still withstand the Icelandic Highlands and we use driving efficiency online monitoring systems in vehicles.
We use public transport in our longer tours,thereby reducing emissions and supporting the local economy.
We encourage the staff in our offices in Reykjavik to use environmental transportation to work. Those who chose to do so get a monthly allowance.
We support local business and we encourage our customers to experience local culture and customs.
We follow the principle of "Reduce, Reuse, Recycle" and we have installed recycling facilities in all departments of our operations.
All of our purchases across all departments are subjected to environmental examination.
We are vocal in our advocacy on environmental issues. We participate in the preservation of nature of Iceland and we review our own policy on a regular basis.
Offsetting Our Carbon Emissions in Iceland
We at Icelandic Mountain Guides are proud to announce our first carbon-neutral tour:  Golden Circle & Magical Nights (IMG09). This is a step towards the future as we calculate how many trees we need to plant to offset the emissions of each tour. We aim to use this method on all of our tours in the near future. We have created a company tradition to plant our trees every spring by the foothills of Reykjavik's mountain, Esja. We work closely with the forestry at Mógilsá and this has become a delightful Spring tradition for the company.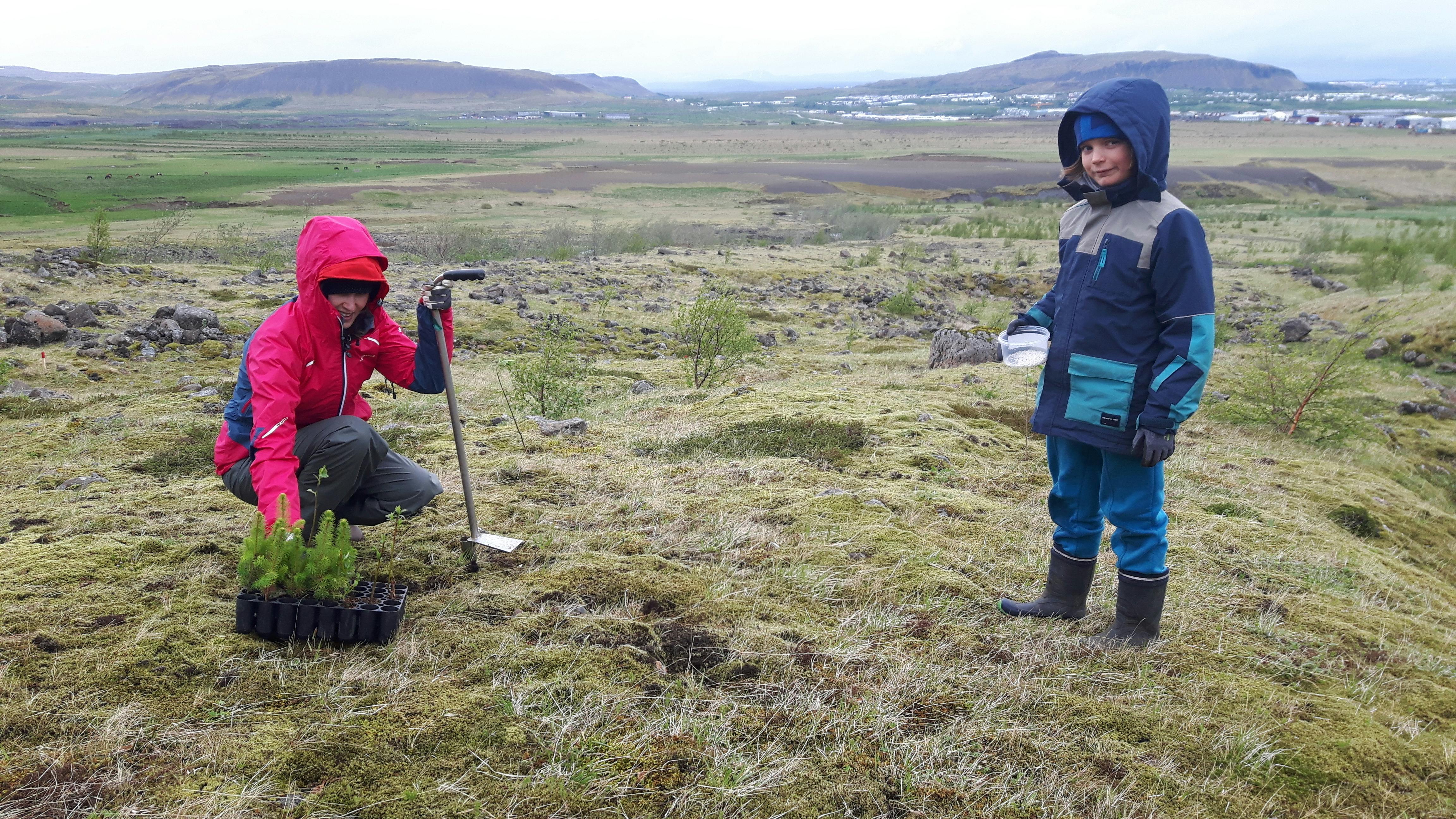 How You Can Help to Protect Icelandic Nature While Visiting
Be a responsible guest.
Follow the instructions and stay on designated roads and paths. Don't litter. Be a mindful guest and if you are in doubt, talk to the locals or your tour guide and ask for guidance. The Icelandic landscape is powerful and majestic but also vulnerable; we need to preserve it and approach it with love and care. We want our guests to be able to visit us again and hopefully, their children and grandchildren too.In order for that to happen, we must join forces to protect our environment.
About the Author
Inga Þórunn Waage
Inga Þórunn Waage is born in Iceland but has spent much of her adult life abroad in places such a South America, Australia, Barcelona, Dublin and her beloved Berlin. She has a BA and MA in English literature and is currently pursuing her Ph.D. in English Literature at the University of Iceland. She is married to a German artist and she has divided her life between Iceland and Germany for the past years - getting the best of both worlds. Her passion is for writing, wilderness, environmental preservation, horses, travel and the unknown. She is fortunate enough to be a part of the Icelandic Mountain Guide's team as she gets the opportunity to write about matters dear to her heart.
Subscribe to the Icelandic Mountain Guides Blog
Outdoor adventure in Iceland is our specialty. Subscribe to our free monthly newsletter to learn when to go, what to do and where to have the best adventures in Iceland.