Iceland Weather in August - What to See & Do
Nothing can compare to Iceland during its warmer summer months, with sprawling greenery and mild temperatures that make it perfect to get out and fully explore this majestic island. Although July is one of the favorite times of year for locals, August comes in a close second with still plenty of opportunities to enjoy nature and take part in the many events happening in the capital city of Reykjavik.
Hiking, camping and glacier explorations are just a small sample of the outdoor activities one can take part of during the month of August. Being still one of the warmer months of the year, August is a great time to hit the open road and truly explore every inch of Iceland. August still boasts over 16 hours of daylight on average, giving plenty of opportunity to be outside for extended periods of time.
If you're planning a summer getaway to Iceland, August makes a great choice, whether you're looking to explore Reykjavik to the fullest, or to embark on the many excursions and tours all around Iceland. Pack your bags, and get ready to enjoy Iceland's last summer month to the fullest!
Quick Facts on Iceland in August
Average temperature: 10.5°C/51°F
High temperature: 13°C/55°F
Low temperature: 8°C/46°F
Average Daylight: 16 hours 23 minutes
Average Rainfall: 30mm/1.18 inches
Average Rainy Days: 23 days
Weather conditions in Iceland in August
Driving conditions in Iceland during the summer months are at their prime, and there's no concerns of snow, or road closures meaning that all of Iceland will be accessible for visiting. Weather conditions are also at their most favourable, making the summer a very popular time for tourists to visit Iceland.
Average temperature
During August, the average temperature is normally 10.5°C or 51°F, allowing for warmer summer clothes to still be in play, especially in Northern and Eastern Iceland.  High temperatures in August usually hit 13°C or 55°F, with the lows getting only slightly cooler at 8°C or 46°F. 
August is the last final month before things start to cool off, and slowly make their ways down towards the freezing point that becomes a reality in the late fall and winter months.
Daylight in Iceland during August
During the 1st of August, Iceland normally records around 17 hours and 51 minutes of total daylight. At the end of the month on the 31st, daylight decreases to 14 hours and 37 minutes, totalling a decline of 3 hours and 14 minutes over the month of August. 
Due to Iceland still having many hours of daylight, this summer month is still a great time to take excursions into the Icelandic wilderness, without having to worry about night falling anytime soon.
Precipitation & Snow
There won't be any snow on the radar during the summer months, unless you're planning to hike into the highlands areas such as Askja. Instead, Iceland still usually has some rain during the summer months, with August usually encountering rainfall 23 total days of the month. Although there's a lot of days with registered rainfall, the duration of rainfall is normally quite short.
You'll want to make sure that you're geared up with water-protected clothing to stay dry and warm during your visit.
What to Pack & Wear in August
You can certainly pack much lighter in August than you would during a winter trip to Iceland, but you still want to ensure you have the right items for your trip.
You'll still want to pack a light coat for your visit, and you'll definitely want to be well-equipped with some rain and windproof gear. Both fleece and wool are still great items to have handy in August, and a pair of gloves will also be advisable for the late nights after the sun sets and temperatures tend to cool down a bit. 
For all times of year in Iceland, if you're planning to get out and explore, you'll want to have a sturdy pair of hiking boots at the ready. Normal shoes do great for city activities, so you should have both on hand to easily make the switch when the time is right.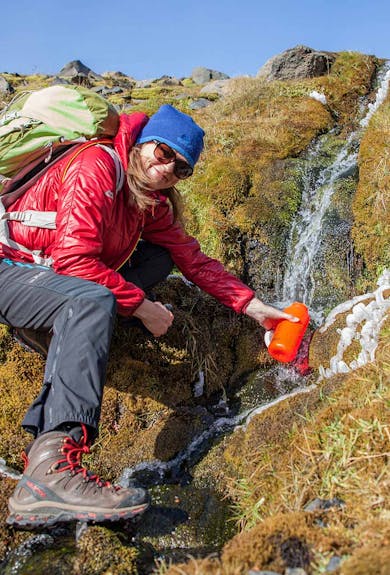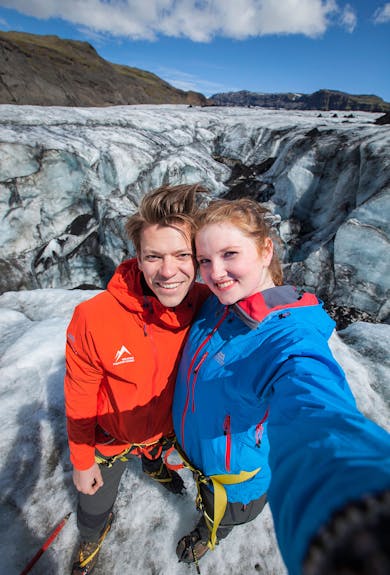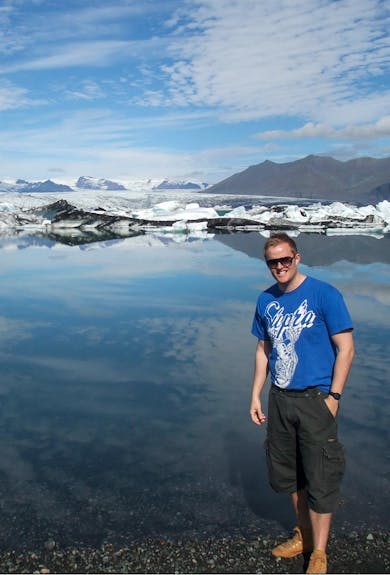 Driving in August
Driving in Iceland in summer is a much easier task than during any of the other times of year. You won't need to worry about road closures, or difficult driving conditions that are normally present on the island. Normally, in the highlands, you'll still need a 4x4 vehicle for more difficult passings as you may encounter fording rivers. If so, ensure that you follow directions on how to approach such situations, and never venture into dangerous situations involving water if you're unsure.
Nonetheless, you should always remember that driving in Iceland is probably a bit different than back home. Remember - off-road driving is not only frowned upon, but is illegal in Iceland. Only drive on clearly marked roads, in order not to sustain damage to your vehicle, or even a large fine.
Also remember not to stop off the side of the road, and only in designated areas where parking is allowed. When you stop off the side of the road, you put not only yourself, but others at risk of life-threatening injuries.
Potential Storms & Driving Conditions
Generally, the worst thing you have to be concerned with during the summer months in Iceland would be quick and heavy rainfall. There's no immediate threat of snow storms, or any other types of storms that could prohibit driving all together.
It's recommended to utilize the 112 Iceland App, just as an option in case you get stuck at some point and require being rescued. It's best to avoid any type of dangerous situation, and although driving in Iceland can be both very rewarding and safe, you need to be fully prepared and have a well-planned route. Along with this, you must stay up to date on current conditions, as they can change very quickly.
In the best-case scenario, experienced drivers and guides have the knowledge of both the roads and weather conditions in Iceland, and can be an excellent way to embrace all of the island's beauty.
Activities & Tours in Icelandic Nature in August
Iceland's Volcanic Trails
Exploring the wilderness during the summer months is one of the best times to get off the beaten path, and undertake a unique experience during your time in Iceland. Visiting Iceland's volcanic trails is certainly one of those unique experiences, where you'll have the chance to visit a remote hiking trail that weaves through one of Iceland's most stunning volcanic regions.
Your hike will begin up to the top of the Sveinstindur mountain, with spectacular views over the long lake, known better as Langisjór. Along the way, you'll find moss-covered formations, waterfalls, canyons and craters left over from one of the greatest eruptions of all time. Get an up close look at the black sands and green moss found in the Mælifellsandur desert as you hike through this impressive landscape. In the evenings, you'll have the chance to relax with your group and local guide in cozy mountain huts that are located along the volcanic trail.
Iceland Southern Coast Self-Drive Tours
Self-drive tours are an excellent way to get out, hit the open road and have a flexible, yet guided itinerary where you'll have full control over what you do and see. Getting off the beaten track and visiting Iceland's finest of the Southern coast is an excellent option during the summer months, with so many options for nature and adventure lovers. You'll definitely want to visit the gems of Iceland's south, including the many waterfalls, geysers and black sandy beaches that many come to visit.
Visiting the area of both Sólheimajökull/Mýrdalsjökull can be extremely rewarding, an outlet glacier that is one of the easiest to reach, and not very far from Reykjavik. This is a great option for those who want to take part in a glacier walk and enjoy one of the largest ice caps in all of Iceland.
Visiting Mývatn & Northern Iceland Self-Drive Tours
A trip to Northern Iceland is another excellent way to spend your summer days, with a visit to Mývant, and the geothermal baths of the North. After travelling around and visiting all of the wonderful nature this part of the island has to offer, take the time to relax and enjoy the long warm summer days, and jump into the warm waters surrounding Iceland's picturesque Northern landscapes.
With diverse landscapes, high mountains, and tons of natural waterfalls, Northern Iceland has something for everyone. Not far away from Mývant, you'll find the quaint coastal city of Húsavík which also offers great whale watching, where you'll get a closer look at one of the world's most largest species known to man. With so much to see and do in the North, you'll want to make sure this makes it onto your itinerary for your trip to Iceland.
Events & Festivals
The Westmann Islands' National Festival (Þjóðhátíð)
Take part in one of Iceland's largest festivals, located in the Westman Islands of Southern Iceland. This holiday takes place during the public Shop Keeper's holiday the first week of August,,where the majority of locals escape from Reykjavik and the city to get out and enjoy nature. This musical celebration boasts over 15,000 visitors each and every year and includes some of the country's favorite artists as well as games, fireworks and a huge bonfire. 
This is truly a unique experience to visit one of Iceland's most famous festivals like a local, and to visit an island just off the coast of Iceland. If you're planning to visit, make sure to book way in advance as tickets and ferry transport do quickly fill-up, so you're going to want to get on this one well in advance.
Gay Pride Festival
Another huge festival in August, the gay pride event in Reykjavik gathers over 1/3 of Iceland's population to come together and celebrate the LGBT community. Concerts, parties and parades all make up this unique event with rainbow colored flags and posters spread all throughout the city center. This event falls normally on the full second week of August, so if you didn't get enough or miss the first week of events going on around Iceland, you'll get a second chance to join the party at the Gay Pride festival in Reykjavik!
Photo © Hinsegin dagar í Reykjavík
Innipúkinn Festival
If you're staying in Reykjavik the first week of August, you won't want to miss this celebration. You can expect a full weekend of celebration, music and other activities as locals gather to celebrate the long weekend due to the public Shop Keeper's holiday. If you're not able to get out to the National Festival on the Westman Islands, this is the next best thing to do during the long weekend!
Photo © Innipukinn
Icelandic Culture Night ("Menningarnótt")
Yet another huge festival in Reykjavik celebrated on the third Saturday of August, the entire capital turns into a cultural epicenter with concerts, events and art shows happening all day long. Museums open their doors for free for everyone to enjoy, and there's a large concert that takes place on Arnarhóll hill coupled with fireworks for the grand finale. 
If you have a museum or art gallery you'd like to check out, this is the perfect chance to get out and enjoy both the event and all of Iceland's culture at the same time.
The Icelandic Culture Night also coincides with the Reykjavik Marathon, for those who're into sports and running, you'll also have the chance to participate if you wish to do so!
In 2020 this festival will be spread out over 10 days, from August 13-23 to respect guidelines around mass gatherings. See more information on the festival's website
Holidays in Iceland during August
The first Monday of August in Iceland celebrates Commerce Day (Shopkeeper's Holiday), or better known in Icelandic as Fridagur verslunarmanna.This holiday provides a long weekend during the first week of August, popular for Icelanders to get outside of the city and out into nature. You can expect that many stores will be closed during this day, so plan accordingly!
About the Author
IMG Staff Writer
An anonymous but well informed member of our team that enjoys sharing their knowledge of Iceland & Greenland's stunning nature.
Subscribe to the Icelandic Mountain Guides Blog
Outdoor adventure in Iceland is our specialty. Subscribe to our free monthly newsletter to learn when to go, what to do and where to have the best adventures in Iceland.