The Land of Fire and Ice comes alive once more
Fagradalsfjall Eruption, Geldingadalur
A Shaky Start
After weeks of earthquakes in the South West region of Iceland, the Reykjanes peninsula finally gave way, bringing a new volcanic eruption to the region for the first time in around 800 years.
Magma pouring out Iceland's newest Volcano
Humble Beginnings
It started like any other Friday evening in Iceland, with many having dinner with friends or family, listening to music or having a socially distanced drink or two in the bars. At around 8:45 pm, phones started to ping, news notifications went wild and twitter/whatsapp and facebook was flooded with drama and excitement, people were hearing rumours of an eruption.
The Icelandic Met Office, News pages and other Icelandic websites all crashed simultaneously making the thirst for this hot gossip even more exciting, the only webpage left alive was erkomideldgos.is or Is there an eruption yet? .com
First Images
The Icelandic Coast Guard flew from the city to the eruption site, catching the first glimpses of this new volcano in Reykjanes. The eager public were refreshing news webpages, waiting for the first images of the new eruption site in Iceland.
Helicopter and Flight tour operators went into a frenzy, with calls and requests for tours from photographers and adrenaline junkies, eager to be some of the first to witness the site at Geldingadalur.
First Images of the Eruption Fissure
The eruption has been slowly growing, with new fissures opening along the fault line, making this a mesmerising vision to watch either online, or try to witness for yourself as a well earned treat after a small hike from the newly created "volcano car park" near the town of Grindavík.
Locals of the town have been thrown into the unexpected situation of being stuck in traffic jams, with the Major even being unable to park at his home due to the inundated number of vehicles coming from the City to hike, with some traffic queues being longer than the hike itself!
Below you can click through some of the images our team have taken at the Eruption site, as well as seeing the live webcam feed of the eruption site live, from RÚV.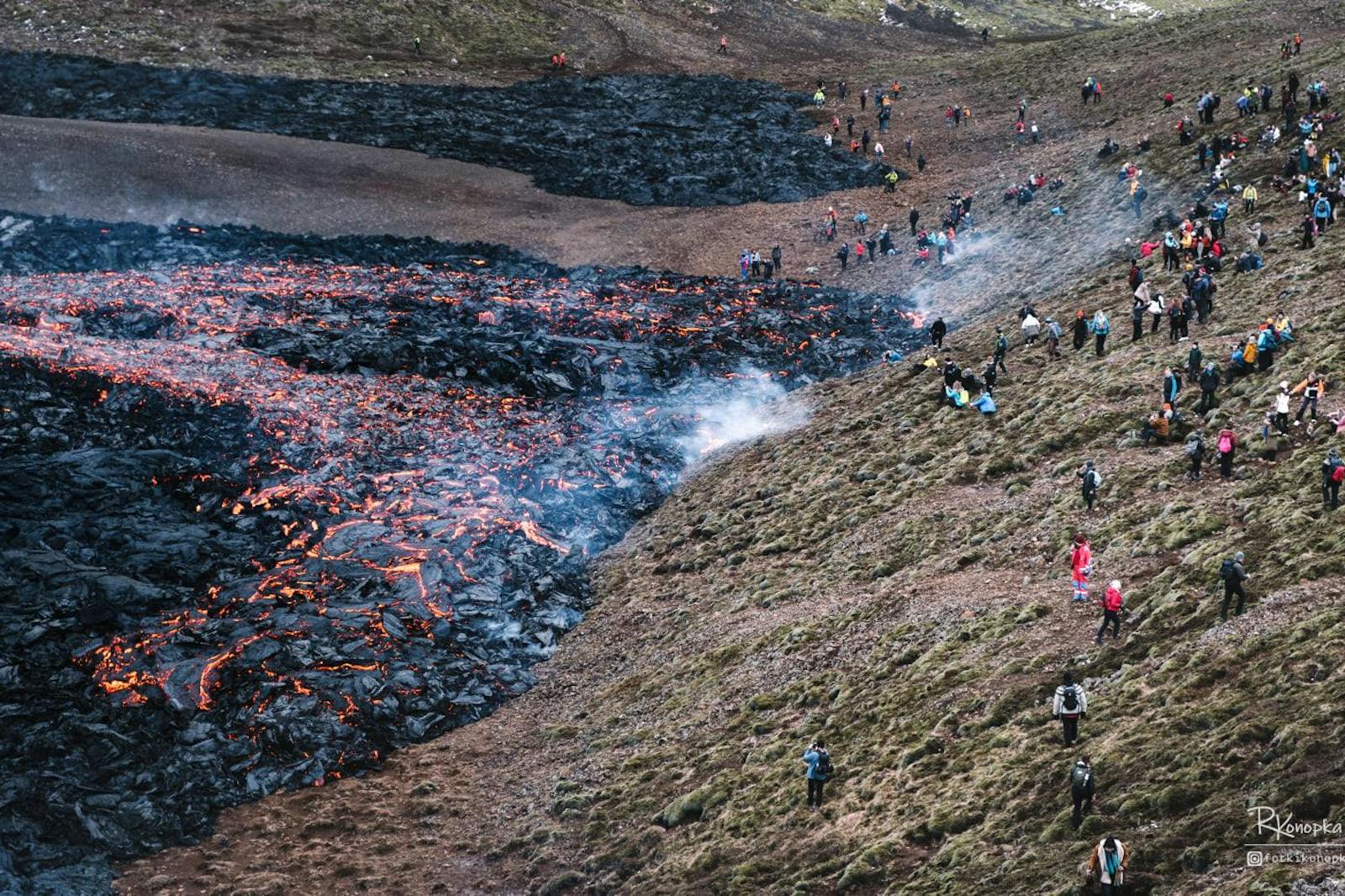 About the Author
Scott Hillen
Scott is originally from Scotland, previously working for a furniture manufacturers in Glasgow before moving to Iceland in 2017. He joined the IMG team in Summer 2018.
Subscribe to the Icelandic Mountain Guides Blog
Outdoor adventure in Iceland is our specialty. Subscribe to our free monthly newsletter to learn when to go, what to do and where to have the best adventures in Iceland.