Þorrablót - A Midwinter's Feast
29. January 2021 —
Discover Iceland
Last week Iceland celebrated Þorrablót, a traditional mid-winter festival, which takes place during the old Norse month of Þorri, running from the 22 January to 20th February.
As the winters took their toll on those living in harsh conditions for the olden time Icelander, food had to last throughout the cold harsh months, with many dishes either being preserved or dried.
This food feast would be eaten as a toast to the god Thor, where people would hold speeches and recite poems.  This can be comparable to the traditional haggis feast of Burns Night in Scotland.
The Dinner
I was invited to my Icelandic partner's family home for this traditional feast, after avoiding this for many years, I knew I couldn't back out of it this time.
Now the food itself can be questionable for many today, as the various items on offer can vary from delicious to the unusual.  This is not comparable to chicken or more modern dishes we have all become accustomed to, that's for sure.
Now initially the table gave a sense of simplicity and singularity, that being the main colour of the dishes. Grey.  With most of the traditional food meant to be weather through late winter, much of the food is made using the tougher or less desirable parts of the animal, preserved in fermented whey.  This helps to break down the proteins and tenderise the meat, making it more pleasant to the taste, but that still didn't make the thought of eating rams testicles and fermented Greenland Shark (Hákarl) all the more appealing.
Thankfully this feast is served in a buffet style, allowing you to pick and choose what delights you wanted to fill your plate with. Some things I was familiar with, such as rúgbrauð (rye bread) and hangikjöt (smoked lamb), as well as the protein rich harðfiskur (dried fish jerky).  Potatoes, mashed rófur (swedes/root vegetables) and sides were definitely the main event on my plate.
The Menu
Hrútspungar (rams' testicles)
Lundabaggi (sheeps loins)
Svið (scorched sheeps head)
Sviðasulta (sheeps head terrine)
Grísasulta (pork terrine)
Hangikjöt (smoked lamb)
Hákarl (fermented Greenland shark)
Rófustappa (mashed swedes/root vegetables)
lifrarpylsa (liver-suet sausage)
Síld (herring)
Rúgbrauð (rye bread)
Kartöflur (potatoes)
Some of the Culinary Delights on Offer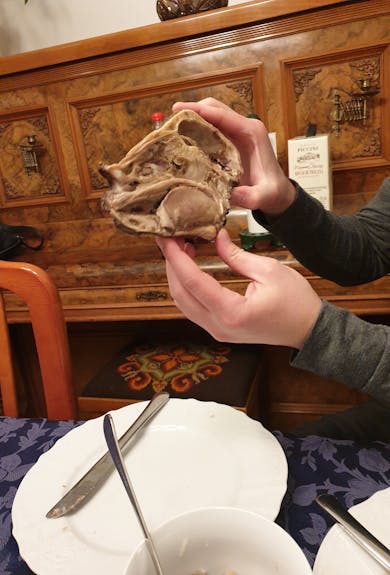 Inside View of the Sheeps Head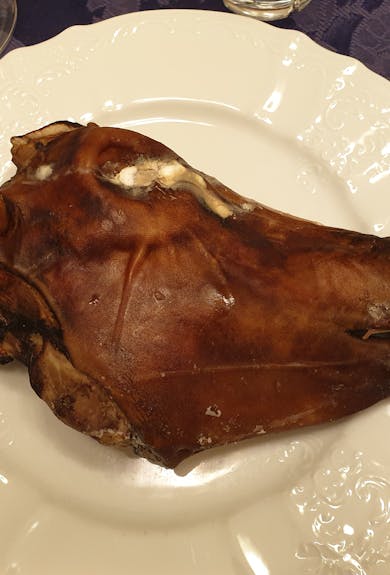 The Sheep Head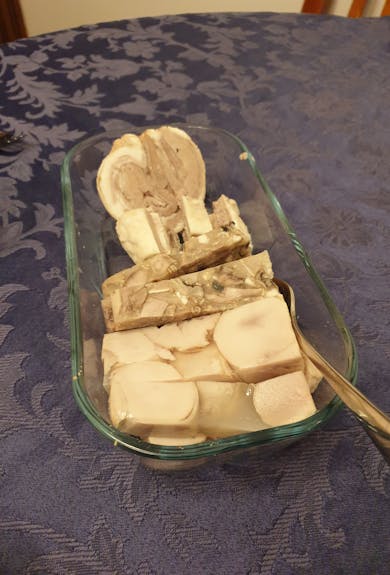 hrútspungar (rams' testicles)
The Verdict
The somewhat strange centrepiece of the table was svíð, half a scorched sheeps head, with its eye and teeth on full display.  This became a friendlier figure as the night progressed, as the drinking continued through the evening and into the early hours.
Although the food was not to my normal taste, I did endure and survive the night. My most liked items were the grísasulta, hangikjöt and the lifrarpylsa along with all the ryebread. Surprisingly the shark was better than you would expect, although the brennivín did give me flashback memories of drunken nights on other aquavits from my younger years.
I would definitely say that it is worth giving this a try next time you visit Iceland in mid-winter, and if you were to visit any other time of the year, many restaurants and cafe's have Icelandic tasting platters to give you an insight into this strange traditional meal.
It was a fun filled evening with family and friends, laughing (sometimes at my expense) and chatting, and enjoying the company on these cold dark days.
I am glad to say this is now ticked off my "how to become a local" checklist, and I am certainly glad this is not a dish served everyday. I was definitely feeling a little fragile the next morning, as I certainly wanted to just sleep my hangover away. I guess this is one of the many reasons Brennivín is known as "The Black Death".
Brennivín on the Black Sand Beach
About the Author
Scott Hillen
Scott is originally from Scotland, previously working for a furniture manufacturers in Glasgow before moving to Iceland in 2017. He joined the IMG team in Summer 2018.
Subscribe to the Icelandic Mountain Guides Blog
Outdoor adventure in Iceland is our specialty. Subscribe to our free monthly newsletter to learn when to go, what to do and where to have the best adventures in Iceland.